1. Active Privacy mode with InviSurf� technology
It allows you to surf the web without a fear that the information about your activities could be left on your computer. It works by employing the technology that blocks recording of recent visited pages, address bar history. web cache, cookies and other sensitive information which are stored on your computer every time you visit a site. It is an active technology which will block and remove evidences only for the time when you are in privacy mode which you can start and stop by pressing the correspondence buttons on the main screen. That means, you can have all your useful cookies, cache, entries, autocomplete entries, passwords etc and still enjoy visiting your secret websites without a fear that you can be dicovered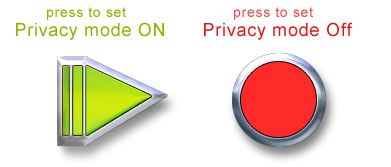 2. Manual Clean Up Editor
An industrial strength and full featured editor to manually clean up all kind of accumulated web surfing history, not only from browsers but also from various programs, instant messaging clients or picture viewing programs. You can clean Internet Explorer, Firefox, Netscape and Opera history, erase browser cache, erase visited URL-s, erase typed URL-s, clean AutoComplete entries, delete cookies, clear searches, document history and many other types of sensitive information, you can erase history from dozen of popular programs, messengers and peer to peer clients. You can precisely set a sequence of actions to be executed using Profile Manager, schedule them to run on timely intervals or specific date, you have complete control over which cookies and typed URLs you want to delete, you have Plug in Manager to make your own plugins for programs which are not on default list. On top of that there is Disk Wipe to shred unused free space on your hard drive.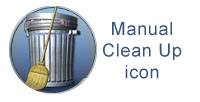 3. Secret Bookmark Editor
Secret Bookmarks Editor is integral part of the program and it has every feature that you need to collect your secret bookmarks in one place, set the passwords for the sites that require them, add new ones, organize them in folders, export in an encrypted file, import back, filter and search, import from existing bookmarks or import current website from an active browsing window and many more options. It also resides in tray where you can easily visit recent, or most visited bookmarks. There is also one new feature in Secret Bookmarks Editor - we made a sets of so called Shadow WebPacks. Those are organized and categorized groups of websites that you can easily import into Shadow and have them right there for use. No adding, no search, no typing. Download the categories you like, delete the websites that you don't like and you saved a lot of time and probably have found new exiting websites you haven't imagined they exists. We are constantly making new WebPacks for your convenience and you can always download them from our website.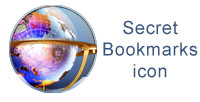 4. Secret Downloads Folder
As you are downloading files, videos, pictures and documents from internet you need one secret place where you will store all those files, and which will be visible only to you and accessible only by you. In Shadow, you can pick a folder you want to be your secret download folder and you can encrypt it. Whenever you launch Shadow it will show up, when you exit Shadow it will turn invisible. You can set up a keyboard shortcut to quickly start Shadow in tray menu and, in combination with your chosen password your family members, kids or colleagues would not even know of yours secret folder existence, yet being able to access it. This folder acts as any other windows folder: you can make sub folders, create or delete files. We strongly encourage you to also encrypt your most confidential private documents. Hiding + encrypting them will give you 100% secure protection and peace of mind. Encrypted files could not be opened, viewed or played in any operating system. You can decrypt them at any time from within Shadow with password you used to encrypt them. Do not forget this password! There is no easy way to retrieve it back.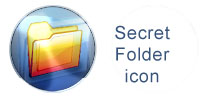 5. Shredder
Regular Windows delete command does not delete the files permanently. Those files can be easily retrieved. Many of scandal videos that has been floating around the net lately were leaked out just by the sole fact that people often don't realize how easy is to retrieve files that were deleted by regular windows delete command. Shredder module in Shadow is easy to use editor that will permanently destroy files you choose to the to the point they can never be recovered. This is possible by employing algorithm that overwrites files multiple times, filling it with binary zeros.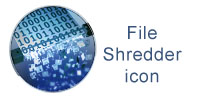 6. Advanced Features
For complete and detailed description of advanced features and how to use them got to the Advanced Features section or click here