Shadow Professional for Vista v2.9.1.100
Shadow Professional v2.7
Shadow makes sure no single track of your secret online activity will be left on your computer. It is premiere, full featured program designed for everyone who wants to take care of his own privacy. With Shadow you can permanently eliminate all tracks of your web activity, you can hide all your downloads in your secret hidden folder, you can put all your secret bookmarks and passwords into bookmark editor which will be accessible only by you and you can permanently delete files in the way that they can never be recovered. Shadow is specially designed to be easy to use and reliable in all situations.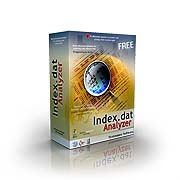 Index.dat Analyzer v2.5
Index.dat Analyzer is a tool to view, examine and delete contents of index.dat files.
Index.dat files are hidden files on your computer that contain all tracks of your online activity, where have you been on internet, what sites you visited, list of URL-s, files and documents you recently accessed. Index.dat files stored on your computer are obviously a potential privacy threat as they can be found and viewed without your knowledge.